During the pandemic last year (2020), I had the enviable task of helping a Waterford based artist with his marketing. Billy Moore takes what most people see as scrap, and turns it into works of art – something I genuinely appreciate.
And through our many chats about his business – we always said: "One day, we'll meet up and try welding and work on a project."
Since then, we've kept in contact – Billy sends a WhatsApp of a new project. And I've returned the creative messages – I made a small office table from scrap pallet wood (from which I'm typing this post).
But it wasn't until June 2021 that we got together for our 'creative experience', and it all happened from scavenging in a skip.
I was recycling plastic when I had a chance look in the metal section. My pulse went sky high when I saw two lucky finds. The first, a beautiful wind vane, the other, a model penny-farthing.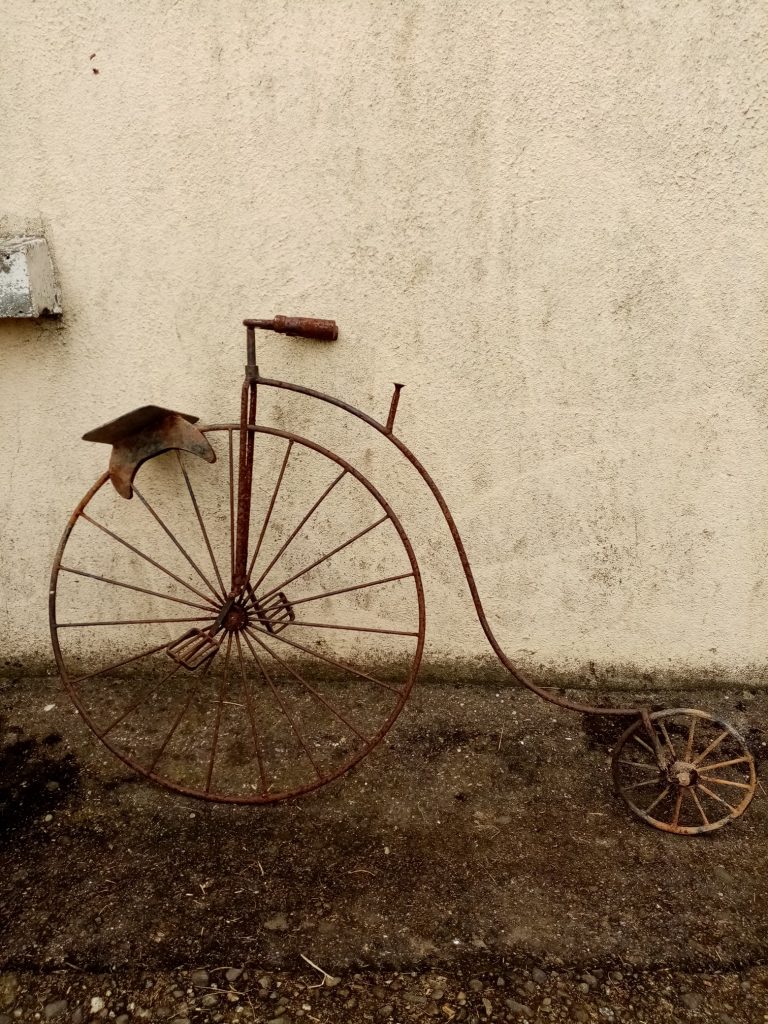 They were in the boot of my car before you could say "Drew Pritchard" (those who know, will know what I mean) – and an hour later – a message was flying to Billy. I was literally like a 5-year old having found the golden ticket.
Billy was straight back: "They're awesome! Let me know when you want pieces made." And there was the start of our day together.
Who is Billy Moore?
Before I go into my experience with Billy – it's best to give some background.
His workshop is located at the end of a long, narrow road, deep in the West-Waterford countryside. It's a beautiful spot and I can see his agricultural surrounds are the base of his inspiration.
Billy's unassuming look belies his true character – a man with an eye for creating beautiful and practical works of art, and attention to detail that is the hallmark of high-end work.
Billy uses metal as the core component, and with a unique instinct, incorporates complementary materials like copper, bronze, plastic, wood and stone.
He then blends old forging techniques, with a more modern approach, to create unique objects of functional art, with a simple and clean form, for homes, gardens and commissions.
These, more often than not, take their aesthetic from old Irish farm implements, vintage machinery and elements from Ireland's industrial past.
His current work includes unique lighting made from whiskey barrels, sculptures for a golf course, and a wide range of furniture pieces to help restore a mill distillery in Co. Galway.
Our day together:
I'll be honest, I was truly excited about our day. Not just because we would restore junk into something beautiful, but I'd be working with a genuinely talented and creative person.
Having quickly decided the wind vane would be a project for another day, we set about working on the bike.
Billy cleaned and welded the rear wheel which was nearly falling off, no easy task in itself. Billy had to expertly create new frame parts to secure the wheel.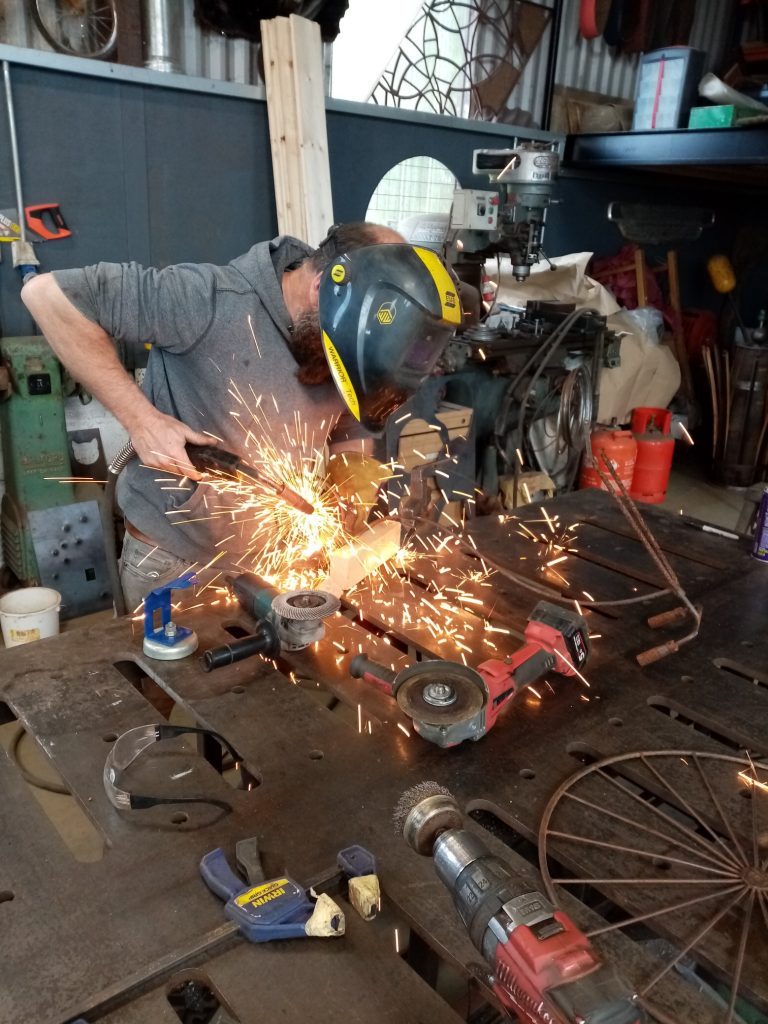 He set me on the task of cleaning the bike with a wire brush, which quickly was taking shape from a rusted object to showing its quality and true age.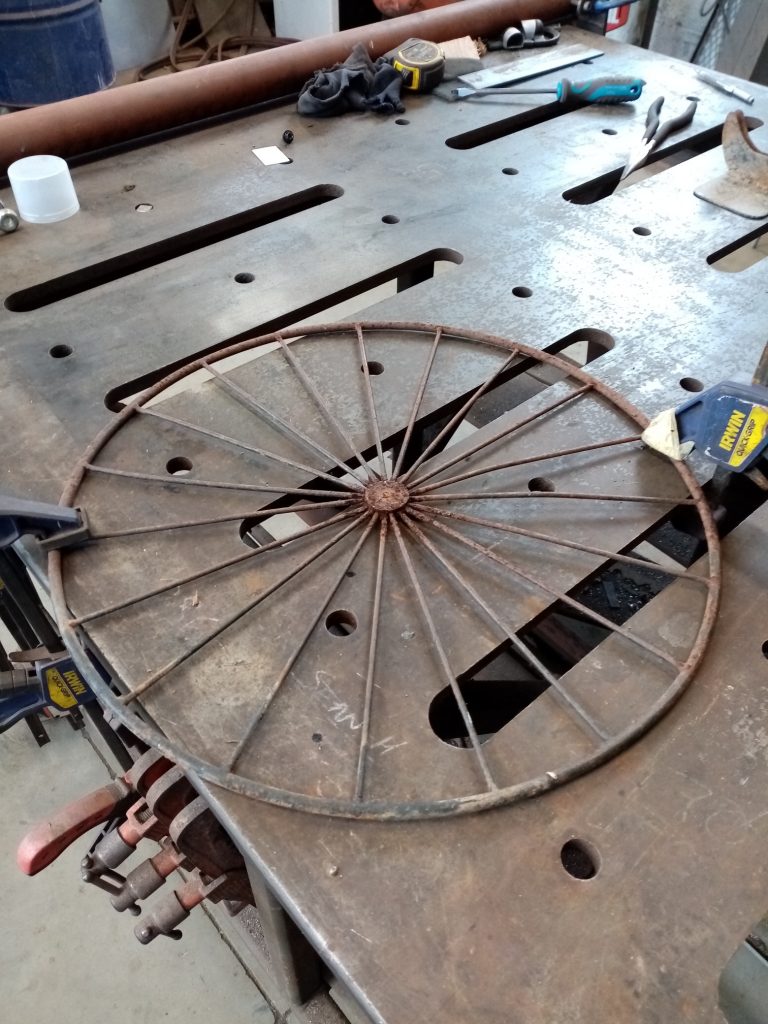 With the rear wheel mended and pedals secured, the long gone saddle needed creating. Billy rummaged upstairs at his wood stockpile and found a piece of Irish oak.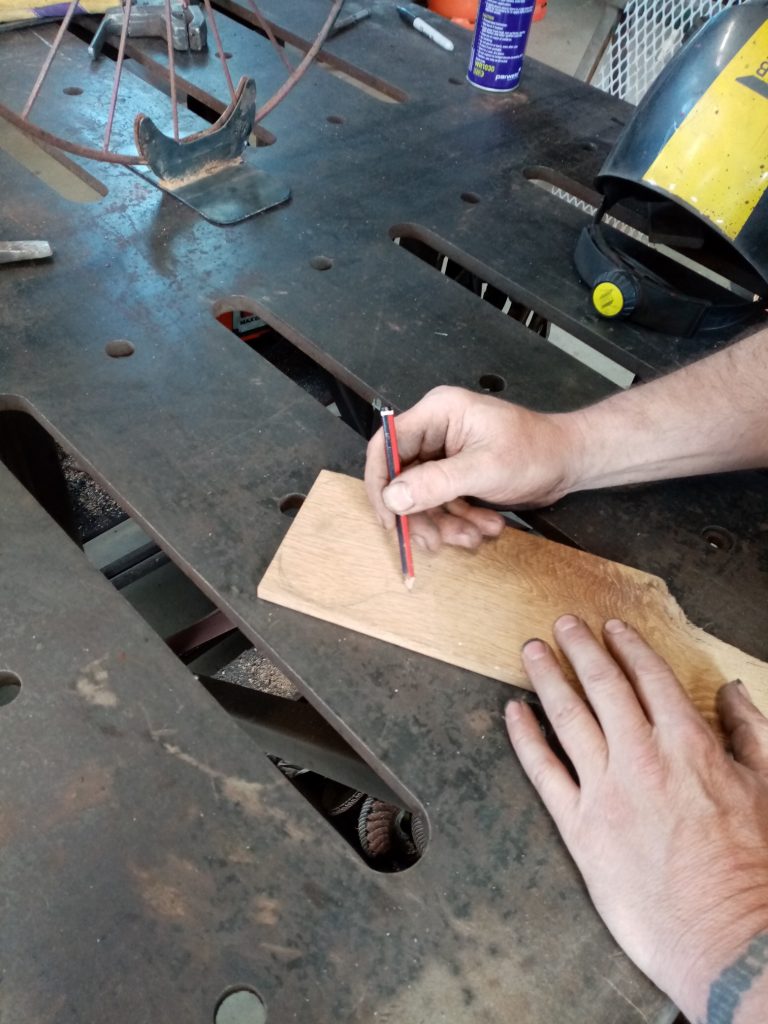 He hand drew the seat, I cut it with the band saw, and Billy finished off with the belt sander.
And this is where Billy's attention to detail really shows.
To age the saddle so it complements the bike, he applied various coats of wax (Billy's secret concoction that I'm not divulging). And the new pieces of metal and welding were just too shiny, so he applied an acid-based solution that instantly turned the new into something from 80 years ago.
The bike now was complete – apart from the stand, which was not really doing its job as the bike wobbled slightly. Being the perfectionist – Billy spotted the ideal solution.
On the workshop floor were large metal frames for an in-process client project.
With time running out, Billy said: "Let's make a frame".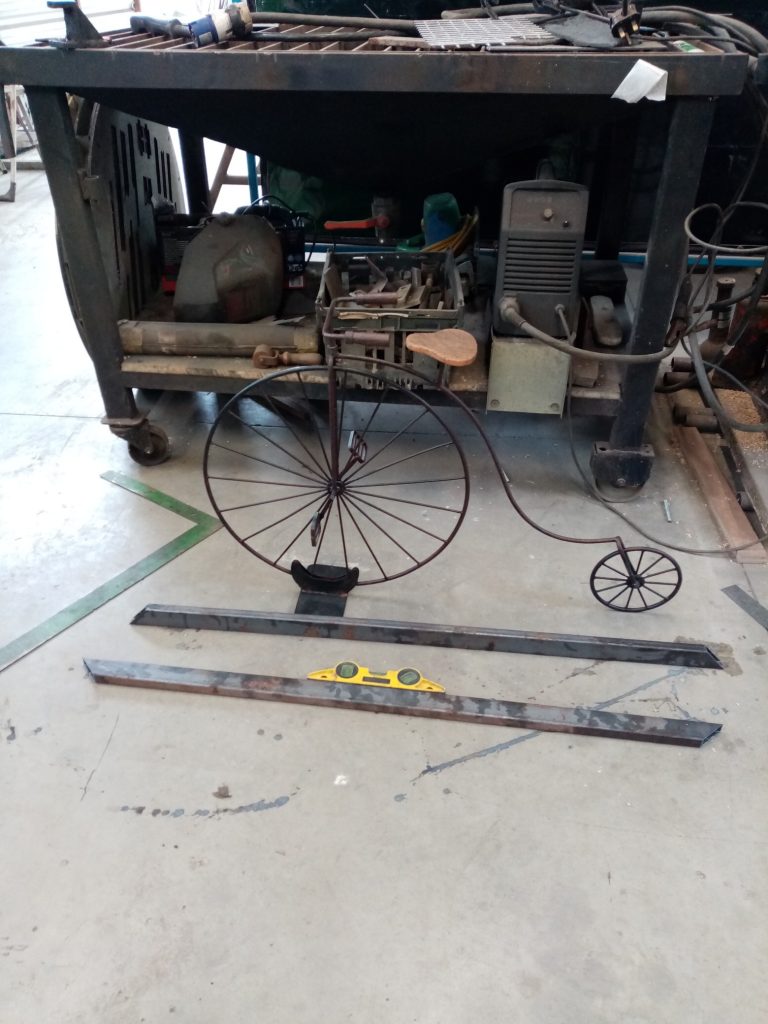 With the pieces measured and cut, Billy looked up at me and we both know what he meant 'time for me to try welding!'
I've never tried this before, and massively keen to have a go. Billy went through safety procedures and how to hold the torch properly. I did four welds, the bottom left corner looks poor, but my last right hand corner attempt was "pretty good" according to Billy.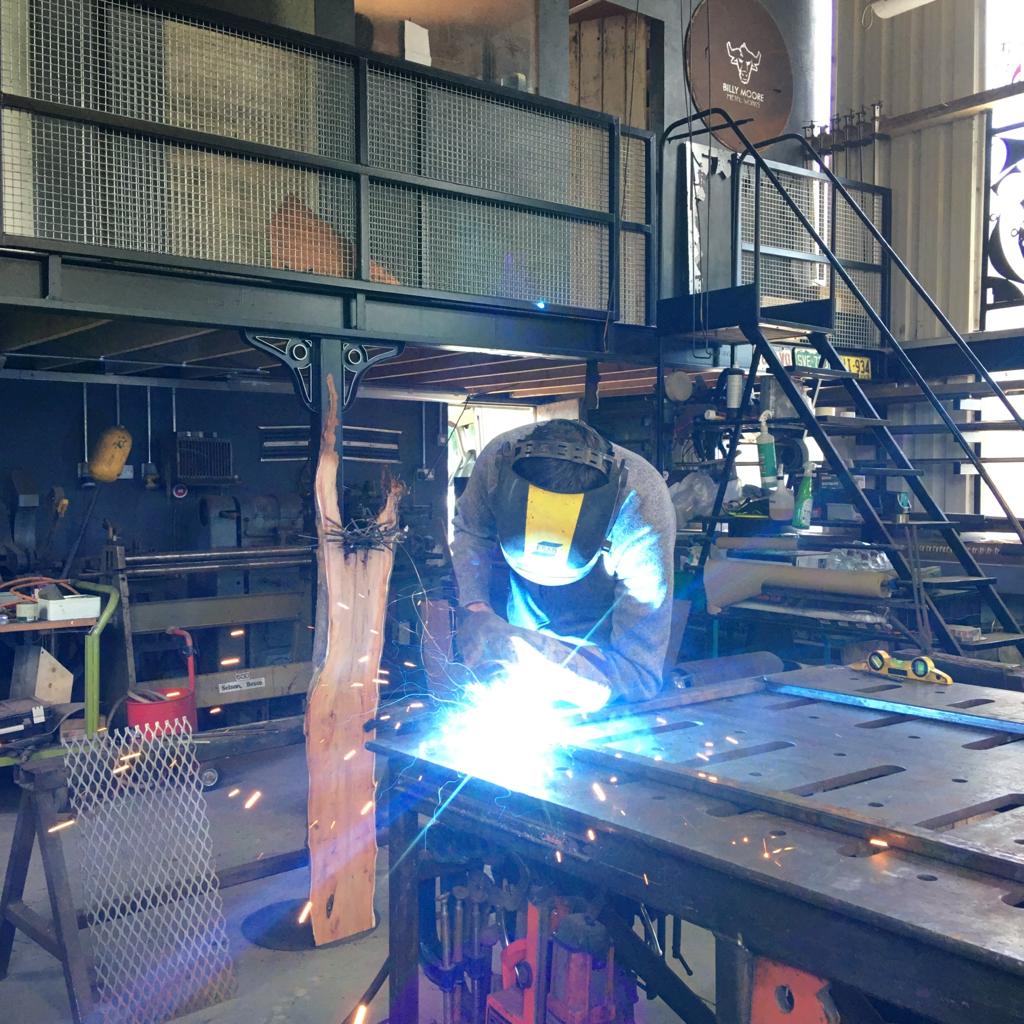 Billy finished the front facing welds and secured the bike and that was it, apart from a final coat on the saddle, ever the perfectionist he is.
Final thoughts:
I was driving home that day and thought, 'I have a genuine, one-off piece that you can't find anywhere in the world'.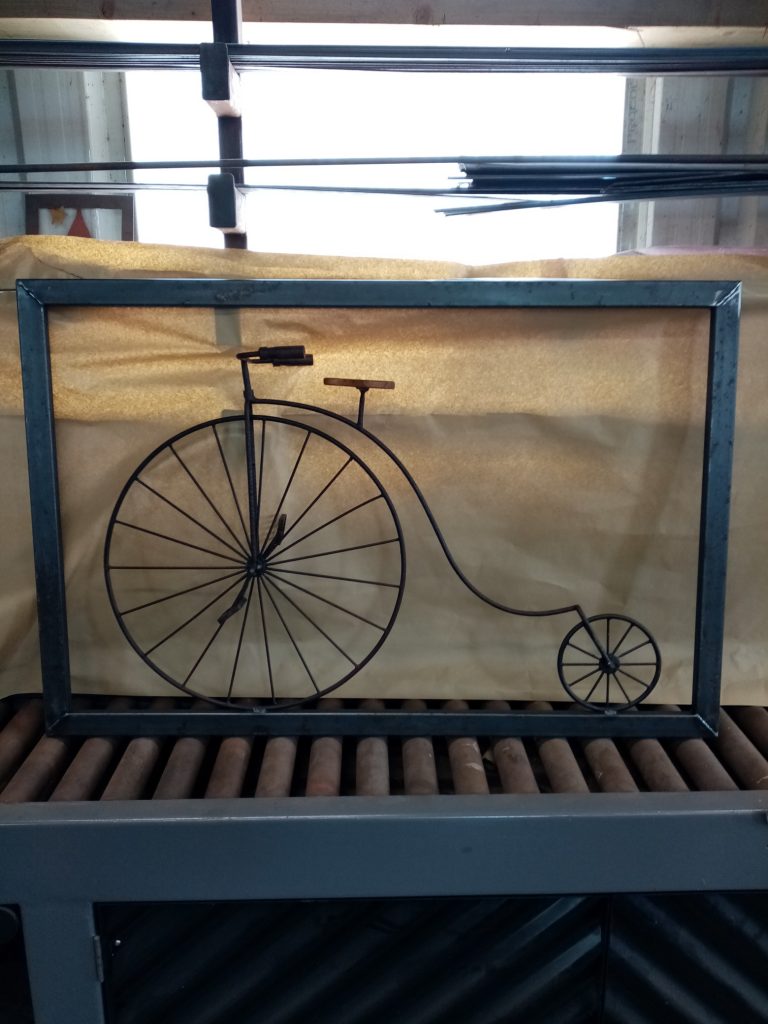 And I think that's a great thing to take away from the day. Old scrap has been crafted into something of beauty and value, and will be part of my family for generations to come. I'm renting at the moment, but when I have a new home, it'll take pride of place.
Like all of Billy's work, the bike has a story too. It's about us meeting and talking about his business, our shared value of restoring salvage, and on my part learning more skills.
And that's what you'll find with Billy's work – it all has a story and meaning, and something to appreciate.
For more on Billy's work click here.
Please note, all our work was carried out Covid-aware.