Looking for a marketing boost in 2018?
Then I've a double whammy package that'll get you on track and super-charge your business for the coming year – it's a bundle upgrade with any Marketing Health Check.
For just €49 I'll professionally produce three marketing projects – a unique 400 word blog post, 7 pieces of social media content, and a bespoke press release.
So how do you get this? Just select one of the three Marketing Health Checks – Skype Essential, Start-up Session or Premium Support, starting at €240, and you'll also benefit from:
(1) Unique 400 word blog post:
Content is vital to your marketing efforts and this professionally written blog post will give your strategy a lift, attracting your key audience. Written with two external/internal links, it'll include your chosen keywords for SEO and tailored to your industry. Unique to you, it'll be useful and valuable content you'll want to share and readers will definitely want to engage with.
(2) Social media content:
Social media is a marketing medium we all need to keep on top of. When we're busy, things can drift, so I'll help with a week's social media content.
I'll suggest or write 7 individual pieces. These can include 7 Facebook posts, 7 tweets or 7 Instagram suggestions – or a mix of any social media channels you use. You'll have a week's supply so you can focus on running the business. The ideas will also give you inspiration for the coming year, making your social media strategy easier.
(3) Bespoke press release:
A well written, targeted press release can add serious weight to your marketing. A backlink from a published article can boost SEO, and the recommendation from where it's published is invaluable.
So I'm giving you all my expertise of writing press releases (over 25 years and counting) in a 250 word article with this bundle. We'll discuss a newsworthy story/angle, and I'll tailor it to important media outlets, ensuring it catches an editor's eye.
Marketing Health Check overview:
If you're new to my Marketing Health Checks, they develop and grow SMEs in any industry by ensuring marketing is more effective. So whether you're B2B, retail, manufacturer, public body, e-commerce, non-profit or sole trader – there's a Check to suit you. I offer three: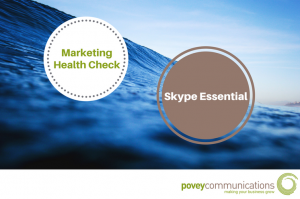 Skype Essential: an essential look at your marketing delivered through Skype,
this package gets you on track with tangible ideas to make a real impact.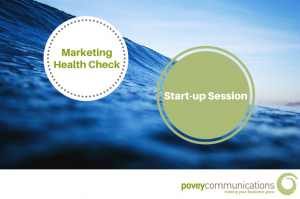 Start-up Session: ensure your start-up marketing is knock-out from day one,
so you'll attract early adopters and important investors.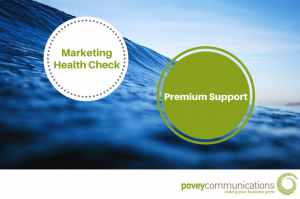 Premium Support: my most popular review is comprehensive and offers actionable advice to grow your SME for the long-term. Also benefits from an online Twitter course from the Tweeting Goddess – a leading social media strategist.
I'll review your brand and current marketing activities, look at new strategies, and offer practical growth suggestions for your product/service. There's a traffic light coded marketing report to highlight priority areas to address. The report will also prove a useful tool to develop your marketing strategy.
I can carry out a Check anywhere in the world – from Ireland to Iceland. We can meet or Skype, whichever is convenient.
The bundle upgrade only runs until 28 February 2018. So let's talk and make your 2018 the best ever.
T&C's:
You qualify for the bundle upgrade when one of the three Marketing Health Check's is purchased, and an additional fee of €49 is paid.
povey communications will:
write a blog post, to a maximum of 400 words (including two external/internal links).
write/describe a maximum of 7 social media content suggestions.
write a press release to a maximum of 250 words.
All three projects will be provided via word document/email to the client.
It is the client's responsibility to upload the blog to a website, share/distribute the social media suggestions, and issue the press release to relevant journalists/contacts. povey communications solely provides the content to the client.
The client will provide the images/photography to accompany the three projects.
All three bundle items require the client to supply relevant information to create the marketing material, and povey communications will carry out 1 hour maximum of research to complete the projects. Should the client not supply the information, then povey communications has the right to refuse the bundle upgrade.
Offer ends 28/02/18.