Branding, great, that's a logo, right? Yes, but not entirely. In fact, many people get confused over what exactly branding is, and why it's important.
And whenever I speak with a client, particularly a start-up, a key point for me is where to start their marketing – branding – and how this connects with their business offering.
So I thought I'd put together this blog post which should answer any questions you have, and hopefully, you'll be in a better position to market your company. It goes through what branding is, example of why it's important, how to create a branding strategy and implementation.
So let's start with the basics – here's my definition of branding:
How a company and its product or service wants to be perceived through their target audience. Branding provides a differentiation from competitors, therefore offering a competitive edge to drive market share.
Branding, in all its forms and touch points, highlights what the brand promise is, and therefore, what the target audience will become loyal to.
So in a nutshell – your branding experiences can directly influence your target audience to purchase your product/service (the brand).
I've mentioned it before, but it's worth saying again. Branding isn't just your logo. It's everywhere your target audience connects with. It could be a website, packaging, employee, store, leaflet, advert – you name it, any marketing channel.
And because branding as an entirety has so much purchasing influence, it makes sense to get it right from the start – that's why it's so important.
Here's a simple example of branding.
Let's take the humble cheese sandwich. The first picture is of what you might buy in a shop. It's a sandwich, two slices of white bread, some spread, and the all important cheese. It does the job, and no doubt if your stomach was growling you would buy it.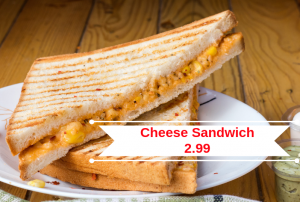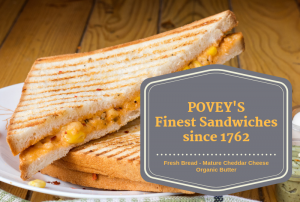 Now look at the bottom picture. It's the same cheese sandwich, nothing different from a product perspective, apart from stronger branding.
I've added a nice logo, relevant colours and font, and a short, punchy description of the product.
Which would you buy now? I'm hoping if my design skills are good that you'll say the bottom one (and no, I'm not thinking of starting a sandwich company).
So what does the branding do? Because of the design and wording, it creates a perception of quality, trustworthiness and a subconscious attachment to the company – which brings about loyalty.
Another key point here is price. Because of the quality of branding, the target audience perceives the product as being better than the other sandwich, which means you can charge a higher price. And that's all down to good design/communications through branding.
Benefits of a strong brand:
Effective: Marketing is more effective as it's consistent and relevant to your target audience.
Efficient: It's easier to create marketing material as you've created brand guidelines.
Cost: We've already mentioned the sandwich example. Having a strong brand can elevate your company to achieve a better bottom line.
Professionalism: Because of your strong branding – people will want to buy from you and potentially invest in you to grow.
Strong brand design:
Here's a really good example of how branding can link only to your company, that way the target audience won't get confused with a competitor.
I was watching BBC's MasterChef recently, and because the broadcaster can't endorse companies, one of the contestant's ingredients had a label covering up the supermarket logo it was bought from.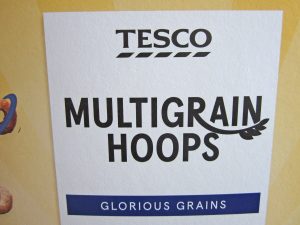 However, the BBC person taping over the Tesco logo didn't cover the famous five stripes underneath. Therefore, whilst I couldn't see the name of the company, I knew instantly that it was Tesco – all because of the strong visual branding. Hope I don't give anyone the sack from the BBC over this.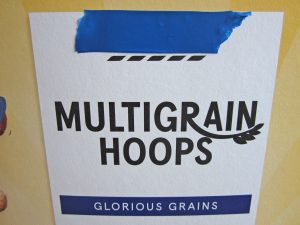 But how do you create a branding strategy that works for you?
For that, you need to go back to the beginning and do your research. There are three key questions you need to ask yourself:
Mission: What is the purpose of the business? Why do you exist? Set it out in a mission statement/brand story.
Values: What are the values your brand offers (USPs) that makes people want to connect with you and become loyal?
Vision: Where are you going with the business and what are your aspirations? How are you going to achieve your mission and goals?
Your research should also cover target audience and their personas, competitors and how they market themselves, your product/service in the marketplace, and what is your definition – value propositions. Once you have a clear business definition and strategy, you can then develop the branding further.
For this, it's a useful idea to set out your branding in a style guide.
Branding style guide:
This master guide covers how your brand should look and communicate with your target audience. This is important as you've spent a lot of time developing your branding, so you'll want to make sure it's consistent.
So when your social media guru asks what's the company's tone of voice, you refer them to the guide. And when your web person asks how should photography look  – again it's the guide. And if you're creating new signage – what do you give the company? The style guide I hear you all shout!
Using this, your branding will always be professional, consistent and relevant to your target audience.
What a branding style guide can include:
Logo: How used, sizes, different colours for example in black and white and transparent formats. Also what the strapline is and how used with the logo.
Font: What fonts can be used and in different applications.
Colours: What is the colour palette for the brand and how used?
Photography: Should they all be black and white? Have smiling faces of people? Or a more serious tone? Set the style out and give examples.
Online: The brand as we know is used wherever you have a touch point – none more important than online. Set guidelines for banner ads, icons and how you might layout a web page.
Words:  – What words can and can't be used? What is the tone of communication – humorous or serious?
Branding strategy – implementation:
Now we're really getting somewhere. You've done your research to know who you are, you've created a brand, know how to use it with your style guide, now you can implement it.
And this is the exciting part. Where you use your new brand all links back to your research and where to find your target audience. You don't have to go on every marketing channel – just choose the one that's right for you.
It's important to remember that it's obvious that branding applies to online and printed material, but don't forget your employees, particularly if you have a physical store.
Make your employees know your brand values and what value propositions make people want to buy – they are your living brand so ignore them at your peril.
Lastly:
I'm the son of a precision engineer, so it's natural for me to spot a typo at a 100 yards.
But there's no excuse for making branding mistakes, like using the wrong font, colour or how your logo should reproduce. And with technology available today, you can create a suite of marketing material easily, and ensure your branding is right.
www.canva.com is an online tool that creates graphic design pieces. You can import your logo, create the right colours and use your own imagery. So there's no reason why your branding across all platforms shouldn't look the same.
So there it is, the essentials of branding. By having a clear strategy from the word go, it'll make all your marketing efforts easier and more effective.